INTRODUCING THE JAMES BAROUD
Explorer Rooftop Tent
The Explorer was built for demanding travels where gear storage and a livable habitat are of para-mount importance. Virtually identical to the popular Evasion, the Explorer adds a cargo storage tray in the back half of the upper shell. Capable of supporting 65-pounds of gear, it includes die-down points to ensure your cargo stays put on bumpy roads.
The Explorer's symmetrical architecture creates four vertical walls of equal height. This lends the interior ample room for the occupants to sit comfortably at either end or move about the unrestricted by a sloping roof.
One of the best features of the Explorer is the superior ventilation provided by the mesh-backed doors and windows which wrap completely around the tent canopy. The angled mesh panels pro-vide sufficient surface area to invite a cooling cross breeze and are cut to offer a modest amount of privacy for the occupants with the mesh exposed.
Dual doors on either side offer options for entry and exit and a rear panel allows for a convenient portal through which to pass gear from the back gate of the vehicle. Although the Explorer's roof height is slightly lower than the Discovery, Extreme, and Space models at 39-inches, the vertical walls and increased ventilation are a worthwhile tradeoff.
Despite the added complexity of a second set of gas-assisted struts, the Explorer is still quick and easy to set up and take down. Once the four buckles are released, the upper shell automatically raises. The gas-charged struts are tuned to help lift the added weight of the cargo stored on the up-per shell. Setup takes but a few minutes with no fuss or effort.
OPEN HEIGHT
41 Inches
104 cm
CLOSED HEIGHT
13.5 Inches
34 cm
LED Lighting
Flashlight Included
Mattress
High Density Foam
Capacity
2 Adults + 1 Child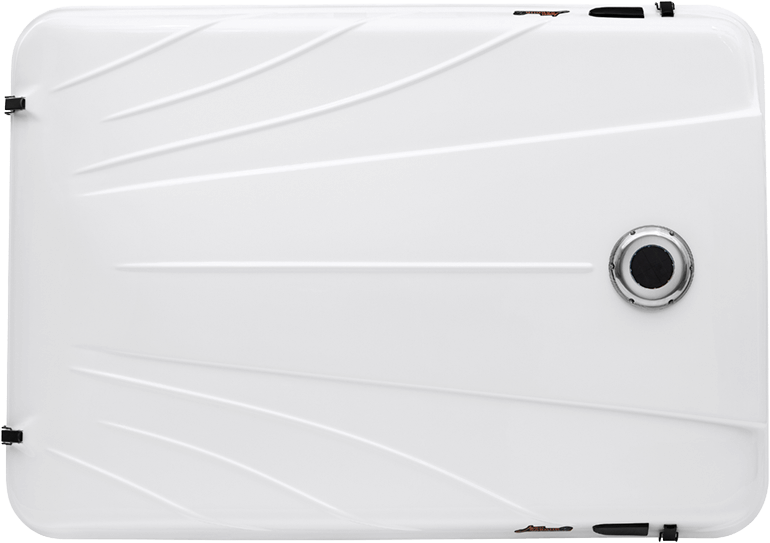 A Hard Shell To Beat
Made of fiberglass-reinforced polyester, the low-profile hull is aerodynamically shaped for optimal fuel efficiency. A rear aileron and external ribs help direct air over the shell to reduce wind noise at highway speeds. Dust-proof ventilation ports on either side expel moisture from within the closed tent to help mitigate the buildup of mildew. The shell is available in white, grey, or black gel-coat colors.
Canvas
Class Leading Strength
A hallmark of every James Baroud tent is the proprietary canvas. The aluminized polyester fabric is coated with an acrylic layer to yield unrivaled storm worthiness, durability, UV-resistance, and breathability. In warm temperatures the canvas reflects solar heat to help maintain a cool and comfortable internal temperature. For use in cooler weather, an optional Isothermic liner bolsters warmth and helps reduce condensation. Like all of their tents, the Explorer was tested to wind speeds of 60mph. Even in a howling gale, the fabric walls remain taut with no buffeting to disturb a good night's sleep.
Canvas Characteristics
ISO Standard
Tissue
100% Polyester
Composition
PES 100%
ISO 1833
Construction
Simple 1/1
ISO 3572
Coating
Acrylic
Width
164cm/243cm
ISO 22198
Weight (+/-5%)
240g/m2
ISO 3801
Tensile Strength
ISO 13934-1
Longitudinal
140 daN
Transversal
100 daN
Breaking load
ISO 13937-1
Longitudinal
2,0 daN
Transversal
2,0 daN
Schmerber
85 cm
ISO 811
Weather Resistance
6 (Sides Covered)
ISO 105 b04
FRICTION
Wet
4
ISO 105×12:2002
Dry
4
Migration within the PVC
3-4
ISO 10510:1978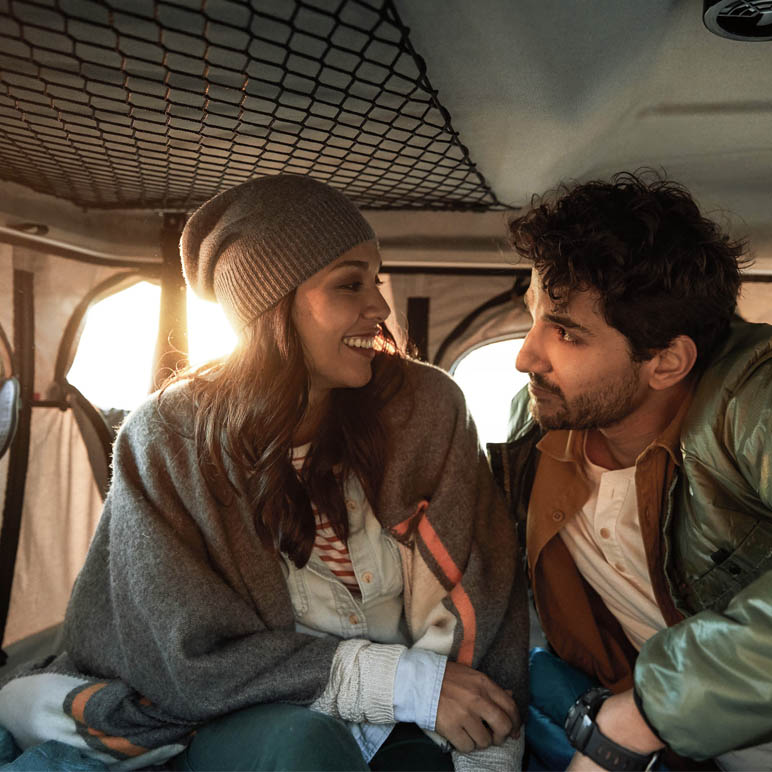 Rugged Yet Comfortable
Inside the tent a 3-inch thick mattress spans the entire 55×78-inch floor. The high-density foam is wrapped in a soft, removable cover for maximum comfort. The refined ergonomics extend to the rounded ladder rungs designed for use with bare feet. Machined aluminum attachment points on both sides of the hull ensure the ladder remains locked securely in place.
Mattress Quality
Density
28 kg/m3
ISO 845
Tensile Strength
115 Kpa
ISO 1798
Air Permeability
825 L/dm2/min
ISO 9237
Dimensions
W: 140cm
L: 198cm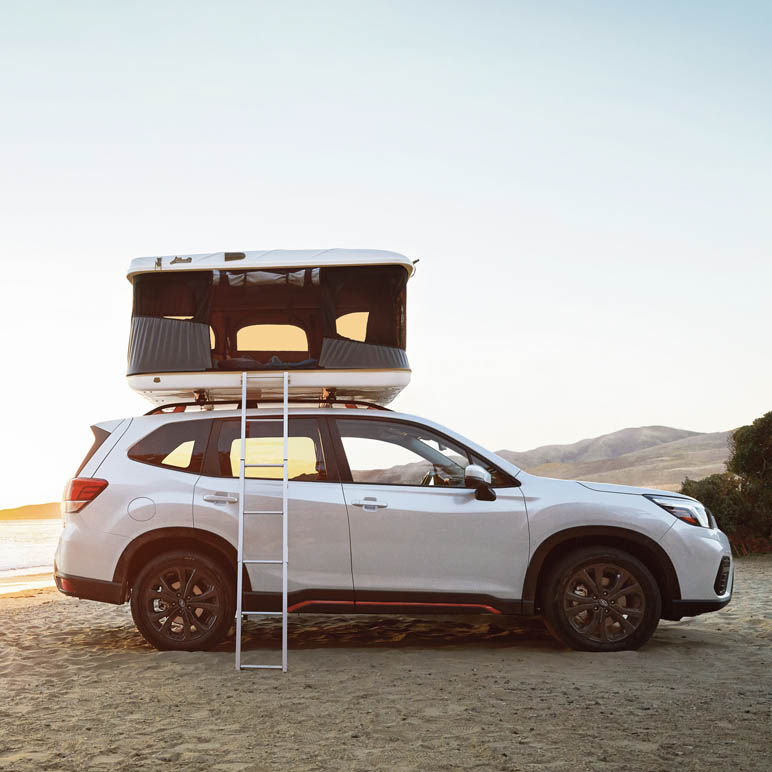 The Explorer includes a detachable LED internal light, storage pockets, a cargo net on the ceiling, and a solar-powered ventilation fan to help move air through the tent in extreme conditions. The fan is silent with an internal battery providing up to 24 hours of power.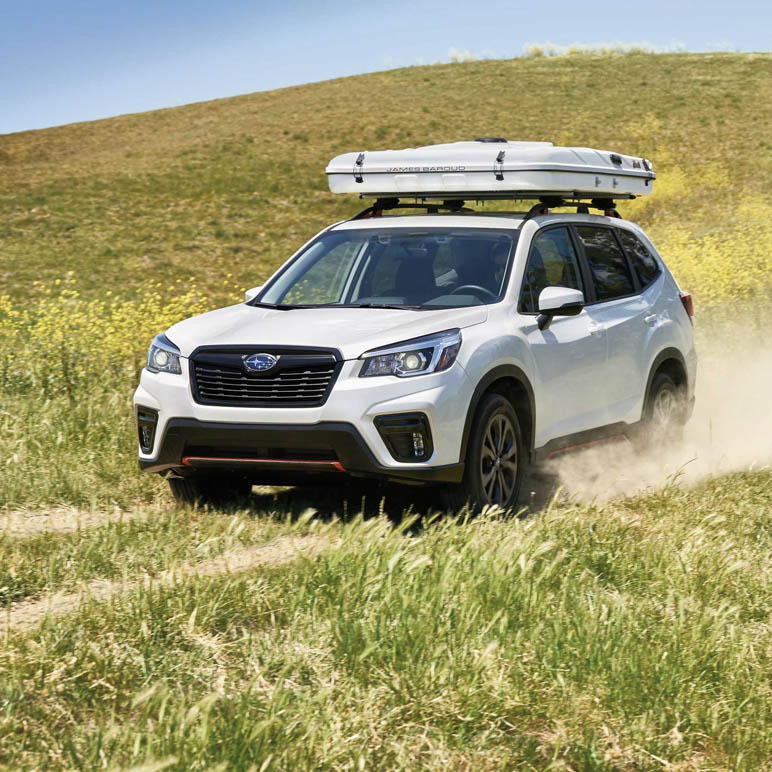 Beneath the hull, two aluminum tracks mount the tent to any standard rack system and permit a wide range of adjustment to ensure proper positioning. Galvanized mounting hardware defends against rust and corrosion.
Built To Last
Built to James Baroud's uncompromising standards, the Explorer's large-gauge zippers, double-stitched seams, and durable mesh panels ensure years of hard use. Certified by Germany's Tüv Rheinland organization, the Evasion is backed by an industry leading 5-year warranty.
The Explorer's superior ventilation, extra room afforded by the vertical walls, and added storage capacity make it perfectly suited to extended travels. Tested on the roughest overland routes around the world, it is made for the modern––Explorer.